11th Short Course on Coating and Drying of Thin Films
and
4th Thin Film Technology Forum
May 13 - May 17, 2019
11th Short Course on Coating and Drying of Thin Films and 4th Thin Film Technology Forum will take place from May 13th to May 17th 2019 in Karlsruhe
The Short Course Coating and Drying of Thin Films addresses engineers, scientists and technicians working in the areas of coatings, functional films, direct printing, sensors, adhesives & tapes, battery coating, paints & automotive coatings, medical patches & diagnostics, optical foils, membrane processing, printed electronics, fuel cells and smart coatings, who intend to get insight into more fundamental aspects with industrial applications or to deepen their expertise. Leading national and international scientists and experts from academia and industry will report on topics of coating technologies, rheology, preparation of coating fluids and about fundamentals and industrial aspects of drying technology.
Within the scope of the short course, coating processes and drying technology are explained interactively by easily accessible examples, both in lectures as well as in a practical Workshop instructed by TFT staff members.

4th Thin Film Technology Forum, renowned scientists will present and discuss recent research results and new trends in industry and academia with a focus on Advances in Printing, Batteries, Smart Processes & Coatings
Coating International TFT Short Course and Forum Review
Click in the image below to read the full article.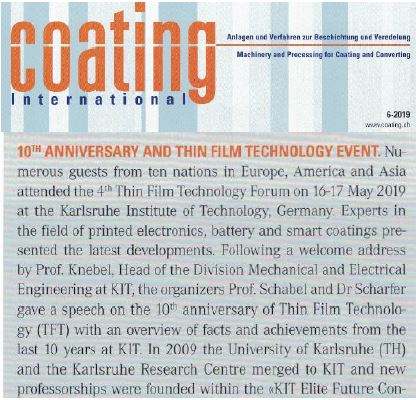 Chair
Prof. Dr.-Ing. Dr. h. c. W. Schabel (KIT)
Dr.-Ing. P. Scharfer (KIT)
Speakers from industry and academia at the Short Course 2019
Prof. Dr. Steven Appott (TCNF, UK)

Dr. Kai K. O. Bär (Adphos Digital Printing)

Dr. Robert Beer (Polytype Converting, CH)

Prof. Dr. Hadj Benkreira (University of Bradford, UK)

Dipl.-Ing. Philipp Cavadini (CN Drying Technology)

Dipl.-Ing. Harald Döll (TSE Troller, CH)

Prof. Dr. Dr. h.c. mult.

Franz Durst (FMP)

Dipl.-Ing. Gilbert Gugler (IPRINT, CH)

Prof. Dr. A. Routh (Cambridge University, UK)

Dr. Peter Schweizer (Schweizer Consulting, CH)

Prof. Dr. Norbert Willenbacher (KIT)

Dipl.-Ing. Ralf Diehm (KIT)

Tobias Börnhorst M.Sc. (KIT)

Jochen Eser M.Sc. (KIT)
Speakers from industry and academia at the Forum 2019
Prof. Fritz Bircher (IPRINT, CH)

Prof. Dr. Frank Kleine Jäger (BASF SE)

Dr. Armin Modlinger (Volkswagen AG)

Prof. Dr.-Ing.-habil. Hermann Nirschl (KIT)

Dr. Ike de Vries (Holst Center, NL)

Prof. Dr.-Ing. Cameron Tropea (TU Darmstadt)

Prof. Dr.-Ing. An-Bang Wang (NTU, Taiwan)

Prof. Dr.-Ing. Arno Kwade (TU Braunschweig)

Dipl.-Ing

. Ralf Diehm (KIT)

Jana Kumberg M.Sc. (KIT)

Lisa Merklein M.Sc. (KIT)
Registration form Short Course and Thin Film Technology Forum 2019
Here you can find the registration forms:
Feedback and comments regarding the past courses
10 Nations met again at KIT to visit the "Thin Film Technology Forum" in Karlsruhe.
June 8, 2018: Numerous guests from Europe, America and Asia attended the 3rd Thin Film Technology Forum on June 7 and 8, 2018. In three thematic blocks, the participants and experts presented and discussed the latest developments in thin-film technology in the field of printed electronics, battery and smart coatings.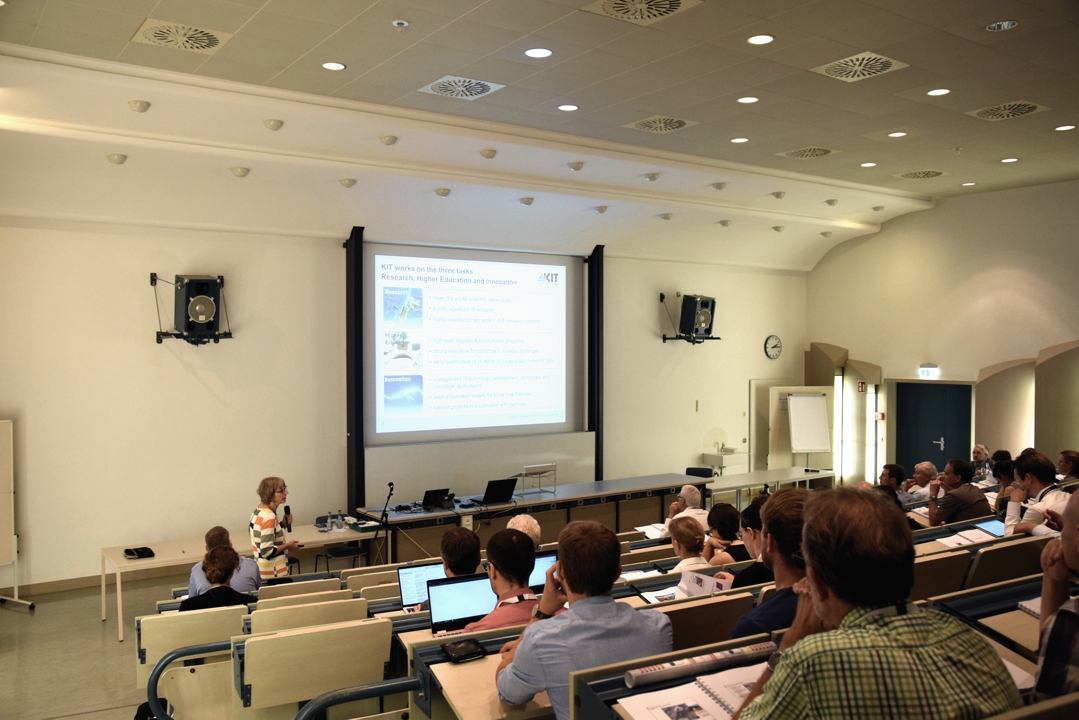 Steven Abbot in his blog about the Short Course:
Short Course 2018:
Für mich teilweise sehr wichtige Themen. Es haben sich neue Anregungen und Ansätze für meine Arbeit ergeben. Ebenso einige neue Kontakte
Sehr guter Überblick über alle Aspekte des Coating & Drying, verknüpft mit Auswirkungen auf technische Anwendungen
Very interesting course, good balance between theory and application.
Very good overview on drying and coating technologies as well as expert experiences in the area of thin films. Many opportunities to discuss with the experts
Great general overview over coating and drying and useful methods
Tolle Organisation und viele interessante Vorträge! Im Gegensatz zu vielen anderen Veranstaltungen wurde gut auf den Zeitplan geachtet.
Workshop 2018:
Excellent
Good workshop. Perfect amount of time.
Gerade in Kombination mit den theoretischen Grundlagen sehr gute und verständliche Experimente
I really appreciate the example chosen for the practical experiment at the end of the course
Was a good, hands-on overview
Forum 2018:
A very nice forum where it is given the opportunity to interact mostly with the industrial environment
Interessante Einblicke in unterschiedliche Bereiche, Gute Gelegenheit zum Networking. Sehr interessante Gespräche
Very interesting presentations on printed and organic electronics processing and battery and smart coating at the interface between scientific and application community. Platform to discuss with experts in the fields
Sehr angenehme Atmosphäre, kommunikative und persönlich. Unterlagen gut und Abendveranstaltung sehr gut gelungen. Interessante Vorträge
Very nice and perfectly competent! Learned a lot!
Very interesting lectures, mostly related to actual the coating and drying processes
Insgesamt sehr gelungen. Etwas mehr Bsp./Probleme aus der Praxis zum Vertiefen der Theorie
See further information and impressions of the last years Short Courses here:
| | | |
| --- | --- | --- |
| | | |